Search Results
Back Forty Texas BBQ
100 Coggins Dr.
Pleasant Hill CA, 94523
(925) 935-1440
Texas size portions... …more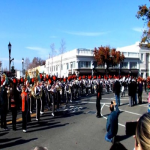 Location:
Railroad Ave. Downtown, Pittsburg
The annual Pittsburg community Christmas Parade is back in 2021. City dignitaries, community service groups, Santa Clause, and the renowned Pittsburg High School Marching Band will perform.
Date:
12/4/2021 - 1/29/2022
Location:
Forrest Home Farms, San Ramon
Fun on the Farm Activities is FREE crafts and activities that highlight farm life and the late Victorian era. These Saturday events are an opportunity to step back into history and enjoy the simple things of life.
Date:
12/4/2021 - 12/11/2021
Location:
Vinous Reverie, Walnut Creek
Taste wines from all over the world every Saturday 1 PM - 4 PM. Five wine taste samples $15. Space is limited please call and reserve your seat. 1+(925) 464-5320