Search Results
Date:
6/17/2022 - 8/19/2022
Location:
Downtown City Park, Brentwood
Starry Nights is now Concerts in the Park in 2022. Concerts in downtown Brentwood City Park. Free concert and free parking. Bring your family, friends, chairs, and blankets. Is 10 weeks of foot-stomping entertainment.
Date:
6/2/2022 - 9/8/2022
Location:
Orinda Community Park, Orinda
Free family concerts in the park. Bring blankets and lawn chairs.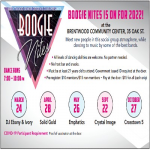 Date:
5/26/2022 - 10/27/2022
Location:
Brentwood Community Center, Brentwood
Meet new people in this social group atmosphere, while dancing to music by some of the area's best bands.