Sugar Barge Bar & Grill
This certificate entitles the holder to: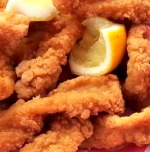 Free Dinner Appetizer!
Enjoy a FREE APPETIZER like Hot Wings, Oyster Shooter, Onion Rings, Calamari, BBQ Rib Tips & more with purchase of an entree and this coupon. Indoor Dinner Dining Only. Sorry no "Buckets of Shrimp." One coupon per table, please. Visit the website to see the entire menu.
Lunch Fri - Sun 11:00 AM - 5:00 PM
Dinner in the Dining Room Fri - Sun 5:00 PM - 9:00 PM
Sugar Barge Bar & Grill
1440 Sugar Barge Rd.,
Bethel Island CA, 94511
(925) 684-9332
rvsugarbarge@comcast.net
http://sugarbarge.com/
Coupon cannot be combined with any other offer. Limit one coupon per person. Offer expires 12/24/2019.